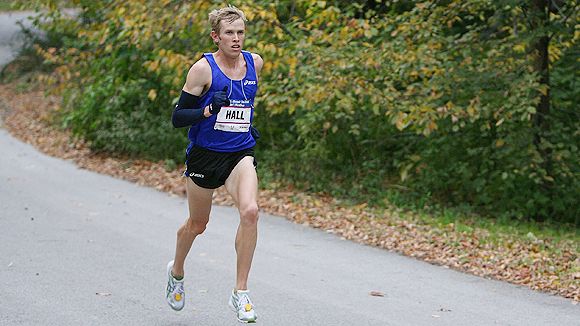 If you look closely, I think you can see his junk.
Stop the press!
Ryan and Sara Hall have left their coach
, Terrence Mahon. I think this is the closest thing to a celebrity breakup that we runners get. Does this mean there's an opening in
Mammoth
for new runners? What do you think - should I apply before someone else seizes my opportunity? I'm sure with that level of training I could finally bring my 5k PR closer to 25 minutes.
Poor John Popper; plagued by false rumors of his death
and forever relegated to being "the heavy guy from Blues Traveler."
You heard it here first
: the NYCM is officially holding a post-marathon
concert with Blues Traveler
as the band. Their email stated that tickets would be free (plus a guest!) for runners, but the fine print is that they're only giving away 1,000 tickets, and those are being given out at random times during the expo. I know Blues Traveler has their fans and all, but the song the NYRR chose to promote the concert is
Run-Around
. You know, that annoying harmonica song that was popular as I was graduating high school... 15 years ago. Evidently they would like us to run so fast that we actually
go back in time
.
And finally, TAPER MADNESS IS REAL, PEOPLE, IT'S REAL! In a fit of delusion, I decided yesterday that I need need need new running shoes for the race. I mean, my current shoes have more than 100 miles on them; how can I possibly run another marathon in them?!? In the process of trying on the new shoes, I went to zip up my adorable, fashionable leather boots... and the zipper broke. Cold broke. I was forced to wear my running shoes with my normal clothes in a throwback to the '80s commuter businesswoman look. Super chic, no?