The other day when I was modeling my running skirt, I looked at the photos and said, "Great photos! I almost look like a runner!" The friend who'd taken the photos gave me a puzzled look and said, "Um... you
are
a runner." My meaning was not to disparage myself, though. Yes, I am a runner. I say that unequivocally. However, if I were walking down the street next to Shalane Flanagan, you would say, "She looks like a runner!" and we would both know you were talking about Shalane.
Me
Not me.
Then yesterday, while I was thinking about this, I got an email from another friend. He mentioned that twice this past week, people have said to him, "Obviously you're an athlete." Both times he thought they were being rudely sarcastic. Both times they weren't - they were impressed by him.
Now, he's a dear friend so I hope he won't be offended when I say that he doesn't exactly look like Frank Shorter. (Yep, another excuse to google "Frank Shorter shirtless".)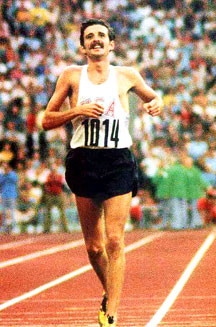 Frank Shorter
I know that athletes and runners come in all shapes and sizes, I do. But isn't perspective a funny thing? In the company of runners, I feel out of place and - yes, I'm going to say it - chubby. But in a non-running community, I'm basically a gazelle.
I'm reminded of a conversation I had once, years ago. I mentioned to a classmate that I was dismayed because my weekly mileage had fallen to about 20mpw, and I wanted to be up closer to 30mpw. This classmate was a casual runner, and he was impressed with my 20mpw. I said, "Yes, but in my circle of friends, 20mpw is not a lot!" His reply? "Sounds like you need to get a new circle of friends."