The funniest thing happened to me yesterday: I woke up in the morning, made myself breakfast, watched some tv, went out for a walk and then lunch, watched some football, did some work, emailed a couple of friends about running. Do you notice there what I
didn't
do?
Around 7pm, it occurred to me with a start: the Chicago Marathon had happened that morning! And I had no idea who won! I still don't, in fact. I tried googling from my phone, but I kept getting public interest stories about charity runners instead of actual race results. I wish more news outlets would take our sport seriously as, you know, a professional sport. (I did, however, discover that the marathon
ran out of medals
. Honestly, I'm still surprised that people who take 7 hours to finish get medals - the marathon officially closes at 6.5 hours.)
But that's not my question, and I have a pressing one today. My question is: which non-distance running professional athlete would win in a marathon?
I have a friend who follows Formula 1 racing. One of his assertions is that the drivers are in impeccable physical shape. Okay, I'm with him so far. However, where he loses me is in trying to compare across sports. Fitness for cycling or for (auto)racing or for sprinting, even, is all different and each requires different aptitude and (most importantly) different training. Am I right?
Any excuse for a shirtless Frank Shorter picture.
I mean, Lance Armstrong said that running a marathon was the
hardest thing he'd ever done
. And when you compare pictures of elite distance runners against elite sprinters, it doesn't take much to see that they are physically different.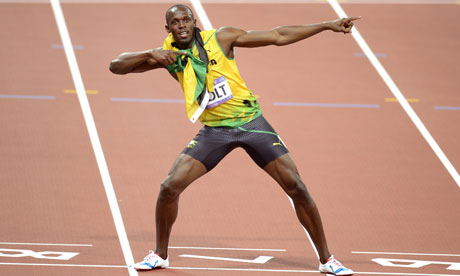 Those thighs. They are substantial.
But I'm still mulling this over in my head. How far does natural athletic ability take you versus sport-specific training? How well could a super gifted athlete do were s/he to switch sports and train, in earnest and over a period of more than 18-weeks, for a marathon?
Update:
I can't figure out how to embed it, but
here's a former NFLer talking about how much he prefers to watch track over football.
Not exactly relevant, but I feel some vindication.